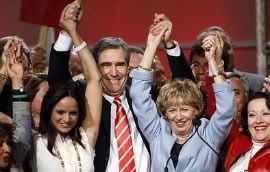 Michael Ignatieff, Liberal Leader-Coronate, with

NannyGate scandal

player Ruby Dhalla and

StripperGate scandal

player Judy Sgro.
Why
surround himself with scandal-shocked folks?
Does he want to be known as a "Leader" who surrounds himself with alleged/actual (respectively) immigration-system abusers?
According to Bourque Newswatch, there's rumors going around that scandal-shocked NannyGate Liberal MP and MAXIM magazine darling Ruby Dhalla may resign from Parliament due to the scandal.
It's always a big deal when a politician is accused of criminal behavior and faces jail time if convicted.
It's said that the accusations, if proven true, could lead to jail time of a couple of years
.
Looks like Leader-Coronate MIchael "Iggy Piggy" Ignatieff is quite embattled and scandal-shocked himself, not knowing quite fully so far what the heck's hit him so hard, not knowing what to do, probably consulting his attack clown Warren "Catmeat" Kinsella to see if a diversion can be made with a stuffed animal or something...
As Day 2 of his first internal party scandal comes to a close, the Liberal Leader has yet to address the media to say what he thinks. He did issue a brief statement

earlier today

announcing that MP Ruby Dhalla had resigned her critic positions while she defends herself against allegations she mistreated two foreign nannies and paid them under the table.





(...)





Mr. Ignatieff could only watch the exchanges from his seat in the middle of the chamber. His reaction ran from shouting disgustedly at the Conservatives to nodding in agreement as Immigration Minister Jason Kenney made a thinly-veiled suggestion that Ms. Dhalla could face up to two years in jail if found guilty of the accusations leveled against her.





(...)Tory MP, Lois Brown, said

"not one Liberal has come out and stood up for these abused nannies,"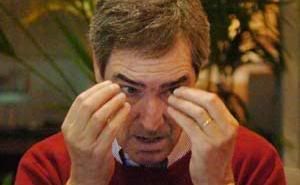 Iggy Piggy tried to use Employment Insurance to bash the Conservatives and try to divert attention from NannyGate. But the government responded with this devastating, staggering counterpunch:
"Mr. Speaker, we did ask the Liberals for their opinion several months ago and what did we receive? Zero. That is what we got from them in terms of looking for ways to help Canadians. ... All they can come up with is borrowed ideas. That is their idea of leadership. We don't buy it."
Besides, doesn't talking about employment issues, rather than diverting attention, only further remind Canadians about NannyGate, a serious employment issue which raises doubts as to Liberal fairness towards the employed (or unemployed)?