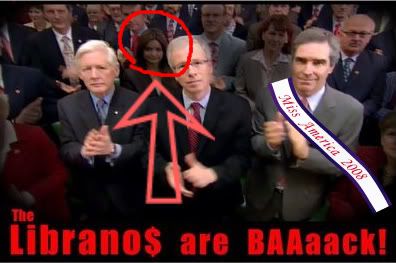 Current Caporegime:
Michael "Iggy" Ignatieff.


Current scandal: NannyGate

Scandal star: Ruby Dhalla

Nervous, sweaty.
Shifty-eyed. Looking for EXIT signs.
Ready to pocket the brown envelopes and push away the marinara-drowned pasta.
Police, taxman, border agency, etc. all eyeing Liberal scandal darling Ruby Dhalla re. possible criminality.
Horrible optics for the Liberals, who do suffer from a widespread perception that their organization is corrupt and possibly criminal.
Police and scary, powerful state apparatus nodes getting involved in a criminal investigation of a Liberal "star"... not a good thing for the Liberals, or, if you prefer to call them that, the Librano$.

Story
here
.
ht: NNW
St. Catharines MP Rick Dykstra, a parliamentary secretary to the Minister of Citizenship and Immigration, told The Guardian Friday that several agencies, including Ontario's Ministry of Labour, the Canada Border Services Agency and the Canada Revenue Agency, have their eyes on the hearing to see if they should get involved legally.

Dyskstra, who sits on the Standing Committee on Citizenship and Immigration that is hearing the Dhalla case, said that while no investigation has been launched by these organizations as of yet, "these agencies will be in a much better position to make a determination once the (Dhalla) review is concluded.

"There is no doubt these agencies are monitoring the hearing, as there are a host of accusations being brought to the floor," Dykstra said from Ottawa.
UPDATE:
Ruby Dhalla's brother fingered for discrimination against pregnant woman in entirely separate complaint
Neil Dhalla summoned before "Human Rights" Commission for firing pregnant woman
ht: Bourque
A woman has complained to the Ontario Human Rights Tribunal that she was fired from a clerical job by Dhalla's brother, Neil Dhalla, because she was pregnant.





(...)





In an exclusive interview with CBC News, Josie Zaffino, who is expecting her first child in less than a week, said she got pregnant about two months after taking a clerical job with Assurance Medical Services, a company owned by Neil Dhalla, "and that's when really everything started."



Pattern of harrassment
;
Co-worker allegedly almost pushed pregnant woman down stairs
The complaint alleges that after Zaffino announced her pregnancy, a pattern of harassment began at work. The complaint describes how a co-worker almost pushed Zaffino down some stairs. It also describes how Neil Dhalla dealt with Zaffino's concerns.
Neil Dhalla allegedly didn't care
When I complained he told me that if it bothered me that much I could sue her — he didn't want to deal with that," Zaffino said.
Conspiracy?
By whom?
The notoriously Liberal-friendly
Toronto Star
and the notoriously Liberal-friendly CBC?
Wonder if the OHRC will, for Mr. Dhalla, return to its 100% conviction rate, after having broken its perfect conviction record to avoid being hauled before the Supreme Court of Canada by Ezra Levant, Mark Steyn and MacLean's magazine to answer for its unlawful, unconstitutional, fascist persecutions...
This whole, rapidly-expanding scandal... could there be more to it than meets the eye, as the Liberals are claiming? If so, I'd say that the Extreme Left is attacking the Liberals under the perceived-Right-Wing-Extremist Ignatieff, because the Extreme Left perceives Iggy to be not-a-team-player in Left-Wing Extremism. The Extreme Left-Wing of the Liberal Party, which clearly appears to be the dominant ideological driving force within, may be creating all sorts of scandals and whatnot in a "Vast, Left-Wing Conspiracy" to cause Iggy so many problems that it'll be impossible for him to become Prime Minister.
Could a certain former Liberal Prime Minister, who's infamous for destroying the Prime Ministership of a Liberal nemesis, be lurking behind the curtain?
I dare not speak his name, for obvious reasons...
Then again, there's NO evidence of any "conspiracy". Or of Left-Wing Extremist monsters behind curtains.
It's entirely possible that all of the allegations of criminal abuse and criminal discrimination are true.