UPDATE:
Names
of the Aboriginal fugitives sought on serious charges
Albert Douglas, 30, of Ohsweken, Ont., faces charges of attempted murder, theft of a motor vehicle, dangerous driving, assaulting a police officer, forcible confinement, robbery and two counts of breaching his bail;
Trevor Miller, 30, of no fixed address, faces charges of robbery and theft of motor vehicle;
Audra Ann Taillefer, 45, of Victoria, B.C., faces charges of robbery and two counts of intimidation;
Skylar Williams, 22, of Ohsweken, faces one charge of robbery;
Arnold Douglas, 61, of Ohsweken, faces two counts of intimidation;
Ken Hill, 47, of Ohsweken, faces two counts of assault; and
An arrest warrant is pending for one male suspect on a charge of assault causing bodily harm.
Bear in mind that some Aboriginal terrorists are sought for having ambushed the vehicle of three United States Border Patrol agents, pulled them out and beat them.
I just had to emphasize this.
Canadian Aboriginals.
Ambushing American Border Patrol agents.
Beating them up.
Attempted run-over of one officer. Attempted murder!
In Canada.
I didn't make this up.
Congratulations, "First Nations" people! You have now amongst your ranks international terrorists who have attacked the United States of America. Nice going! This will indeed help your "cause". An act of war against the world's superpower. Do you accept that? Will you scream all day about your rights or will you take responsiblity for your own people and get to work to modernize the Aboriginal community, like many Muslims are doing with theirs now since the roundup of the jihadists in Toronto?

You may now join the Islamists as a group who, by the conduct of its own people and by the silence of most of its members, have caused the people of the Free World to view you as terrorists and terrorist supporters.
Is this what you want?
What are you, some kind of supremacists? Do you want all descendants of all immigrants to "go back to where we came from" or worse?
Who are you anyway?
Guess the worst the fugitives will get in the way of punishment will be to attend a "healing circle"...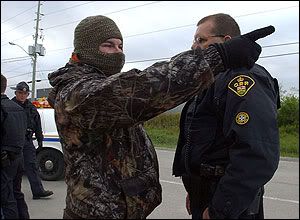 Story
here
. h/t: Nealenews.com
OPP officers assigned to the native standoff in Caledonia say their bosses have put their public image ahead of officer safety and law and order.

Talking for the first time since the volatile land occupation began 100 days ago, the president of the Ontario Provincial Police Association said a meeting is being held tonight in Caledonia so the association can hear the concerns of officers who have been told not to wear riot gear or tactical uniforms when dealing with native protestors, are being sent out without proper back-up and are left wondering if commanding officers and the courts will back them up when they try to enforce the law.

"Due to the political pressures and optics involved with this, the OPP seems to be bending their own rules while sacrificing officer safety," Karl Walsh said. "Optics don't have any place on the front lines at Caledonia."

(...)

So far, 13 officers have been injured while assigned to the stand-off. Some injuries could have been avoided if officers had been allowed to follow their usual procedures, officers say.

Aboriginals. Wearing masks and camoflage military-style clothing.
Occupying.
Blocking the highway for 100 days.
Burning a bridge.
Destroying public property.
Mugging a reporter.
Terrorizing the people of Caledonia.

Breaking the law.

Police ordered to do nothing. Their safety is endangered. They cannot do their job. They cannot uphold law and order. They cannot uphold the Charter of Rights and Freedoms.

In Canada.

I didn't make this up. The police say this is so.


This also reminds me of "gay pride" parades: it is a fact that public nudity and indecent exposure are crimes in Canada. Yet in these special parades, gays walk down the street with their sexual organs fully exposed, including to children. The police do nothing.
Any other situation, when a person is naked in public, they're arrested and charged under the Criminal Code.


There are only two possible reasons for the difference:

1) The police aren't doing their job during any gay parades, or

2) The politicians and the police officers' superiors have ordered them to allow the gay people to violate the laws of Canada, just as they were ordered to allow Aboriginals to violate the laws of Canada.

I contend that 2) is the believable scenario, for if police refused to do their jobs of their own accord, they'd be disciplined appropriately. But they're doing their best. They're just being ordered not to do thier jobs!
It's the same situation in both the Aboriginal occupation and the gay parades' specially enforcement-exempt indecent exposure.
Therefore, I do hereby declare:

The law in Canada does not, in practice, apply equally to all persons. It is applied according to whatever "group" to which one supposedly belongs. And this is wrong. This is unconstitutional. This is unCanadian.

Canadians must take notice. If we don't, then our country will be run by ideologues hellbent on imposing the dangerous dogmatic ideology of "political correctness".
UPDATE: Ontario police seek arrest warrants after violence at aboriginal blockade
Police are looking for seven people who face several charges, including attempted murder, assault and forcible confinement, after a string of violent clashes at the scene of a long-standing aboriginal blockade in southern Ontario.

An Ontario Provincial Police officer suffered serious injuries Friday after angry aboriginal protesters surrounded a U.S. Border Patrol vehicle and dragged out its three occupants.

The injured officer was pulled out of the path of the stolen vehicle as it was driven deliberately at him, OPP Const. Doug Graham said Saturday.

(...)

Police say they will also be laying charges in relation to an incident Friday involving an elderly couple whose car was surrounded by protesters.

(...)

"Unfortunately that has occurred," Pilon said. "And I don't think that's acceptable."