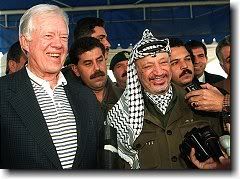 Former Democratic US President Jimmy Carter happily mugging with arch-terrorist Yasser Arafat

Former President Jimmy Carter's center in Atlanta received more than $1 million from the family of Osama bin Laden, according to an investigative report.

A brother of the al-Qaida terrorist leader, Bakr M. bin Laden, funneled the money to the Carter Center in Atlanta through the Saudi Bin Laden Group, according to Melanie Morgan, chairman of a group opposing the Georgia Democrat called the Censure Carter Committee.

Morgan, a WorldNetDaily columnist, based her claim on papers she acquired from the Carter Center.

She points to a report showing Carter met with 10 of Osama bin Laden's brothers early in 2000. The former president and his wife, Rosalyn, followed up the meeting with a breakfast with Bakr bin Laden in September 2000 and secured the first $200,000 towards the more than $1 million that has gone to the Carter Center.

More...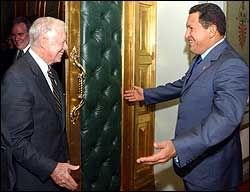 Carter prepares to embrace another leftist monster, Venezuelan Dictator and enemy of the Free World, Hugo Chavez


From CanadaFreePress.com:



"An investigation by the Censure Carter Committee into the financing for The Carter Center of Atlanta, Georgia founded by President Carter and his wife to advance his "Blame America First" policies reveals that over $1,000,000 has been funneled from Bakr M. Bin Laden for the Saudi Bin Laden Group to the Carter Center," says censure Carter.Com in a mainstream media-ignored recent media release.

(...)

The mainstream media is pretending that the Carter-bin Laden story is a non-issue, so the Censure Carter Campaign is out raising the money to air the facts in TV ads.

Carter presses the flesh with Balkan butcher and fugitive war criminal Radovan Karadzic

Well, well, well...

Whither the MSM? The Democrats? The left? Cindy Sheehan? Michael Moore (who falsely accused President Bush of similar stuff)?

Carter having a jolly good time with terrible communist bastard president Fidel Castro of Cuba
Gee... Jimmy certainly keeps some rather fascinating company, doesn't he?